Be Part Of A Beautiful Smile.
Join our growing dental practices in Southern Indiana. Our state-of-the-art facilities offer an excellent workplace and allow us to focus on providing outstanding dental care to patients of all ages. We have a fast-paced, family-oriented environment that supports career-oriented professionals who share our vision of care.
Compensation, benefits and training are geared toward creating a superior dental care team. Check out our open positions below and get started on your career with Denzinger Family Dentistry. Help us create beautiful smiles.
Job Title
About The Job
Job ID
EDDA
Full Time Expanded Duties Dental Assistant – Show us how you love taking care of beautiful smiles! EDDA license preferred. Superior knowledge of dental assistant procedures and terminology. Excellent communication and patient care skills. Compensation package based on experience.

Submit your contact info and resume below or refer a friend to this position.

E224-14
Complete This Employment Application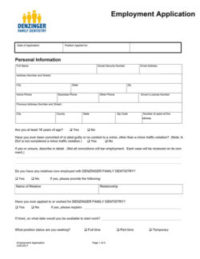 Download and print the employment application at left and send it back with any other documents you want to include for our consideration.
Submit Your Completed Application Here