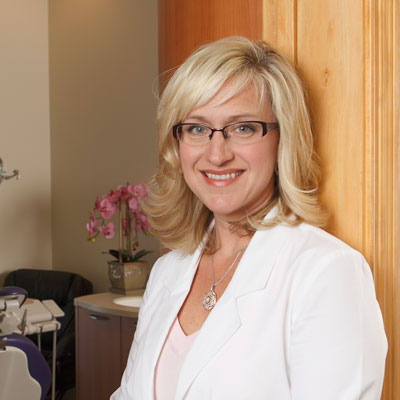 Dr. Sara holds undergraduate degrees in Design and Art History from Indiana University, and is a graduate of Floyd Central High School, and Indiana University School of Dentistry. She has been awarded numerous honors for leadership, philanthropy and achievement, and has attended countless continuing education classes to keep her up to date on dental technology. But, by far, she is most proud of her faith, her family, her staff, and her practice and the role she can play in the community because of those things.
Dr. Sara is an active volunteer in several organizations, a proud supporter of dozens of local charities and organizations, and is an accomplished musician (classical flute).
Dr. Sara lives and breathes for her two boys, Zachary and Jarrett and loves to travel and spend time with Michael, her husband.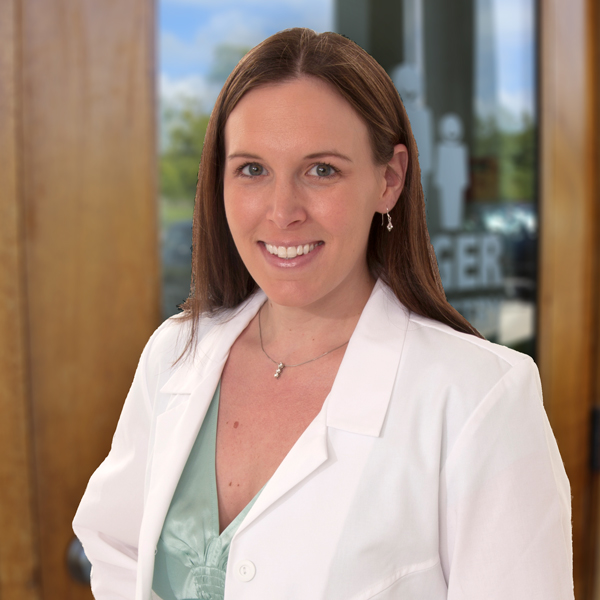 Dr. Tracy earned her undergraduate degree in Economics and Chemistry from the University of North Carolina at Chapel Hill and her Doctor of Dental Surgery degree from the University of Illinois at Chicago. Dr. Tracy has enjoyed continuing her education through numerous courses she has attended that focus on aspects of dentistry only touched upon in school including orthodontic, pediatric, endodontic, and cosmetic dentistry as well as courses on new technology, techniques, and materials. Dr. Tracy has also established herself as an expert in treating sleep apnea and TMJ/TMD with oral appliance therapy.
Dr. Tracy enjoys speaking to and educating children on good oral health habits. During Children's Dental Health month in February, you will find her at some of the local elementary schools each Monday, her day off.
Dr. Tracy married Ben, a southern Indiana native, and loves spending time with her stepdaughter, Lucy, and daughters, Lexi and Chloe. In her spare time, she enjoys traveling, reading, swimming, watching sports, and going to the movies.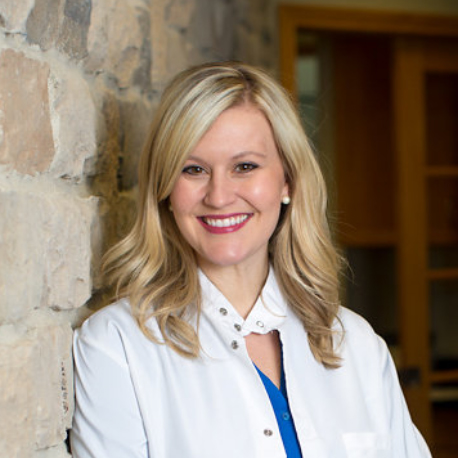 Dr. Courtney Lambring Fust
Dr. Courtney was born and raised in Southern Indiana on her family's farm and is a graduate of Seymour High School.  She studied Biology at the University of Louisville where she graduated Magna Cum Laude.  In addition to her undergraduate studies, Dr. Courtney was also a U of L cheerleader.  This gave her the opportunity to cheer at several high profile games including a college basketball Final Four.  Dr. Courtney earned her doctorate degree from the University of Louisville School of Dentistry.  One of her favorite experiences in dental school was travelling to the Philippines on a dental mission trip to provide dental care to poverty stricken children.
Since graduating from dental school, Dr. Courtney has enjoyed continuing her education with a focus on implant dentistry and pediatric dentistry.  She is a member of the Indiana Dental Association and the Southern Indiana Dental Association.
Dr. Courtney is married to Andrew Fust, a native to Floyds Knobs, and they have a daughter, Finley and son, Arthur.  She lives in Louisville and is an active member at Concordia Lutheran Church.
During her free time, you can expect to find Dr. Courtney at sporting events or hanging out with her large, close-knit family and friends.  She loves and follows all things U of L and the Indianapolis Colts.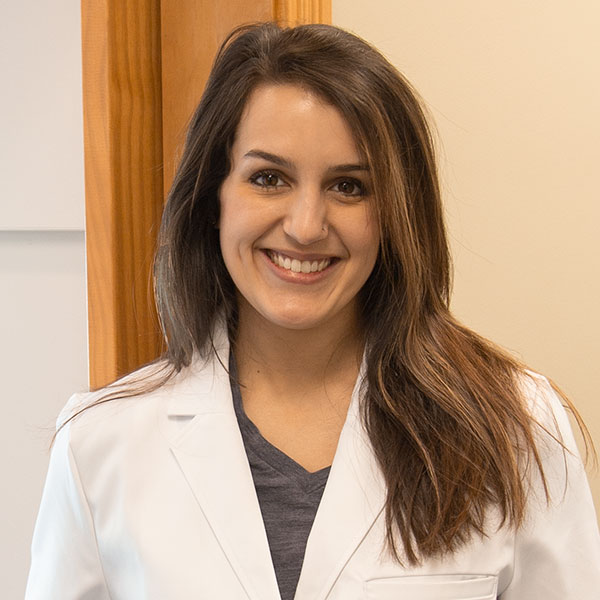 Dr. Mary attended Hobart High school in Northern Indiana, and later studied Psychology, Biology and Chemistry at Indiana University Northwest. During her time at IU Northwest, Dr. Mary discovered her interest in dentistry and ended up attending the University of Louisville School of Dentistry where she graduated with her DMD degree in May of 2017.
While in dental school, Dr. Mary had the opportunity to do international dental service trips in both the Philippines and Belize where she was able to help meet the dental needs of remote villagers and their children. Dr. Mary looks forward to doing like work in the future. Dr. Mary enjoys furthering her education by taking additional courses in pediatrics, endodontics, implant and cosmetic dentistry.
In her spare time, Dr. Mary loves traveling and discovering new places, spending time with her loved ones, and trying new local restaurants and breweries. Dr. Mary considers herself to be a passionate "foodie" and welcomes all of your favorite restaurant suggestions! Dr. Mary does enjoy cooking and baking at home, reading, hiking, and playing with her two cats, Lucy and Piper.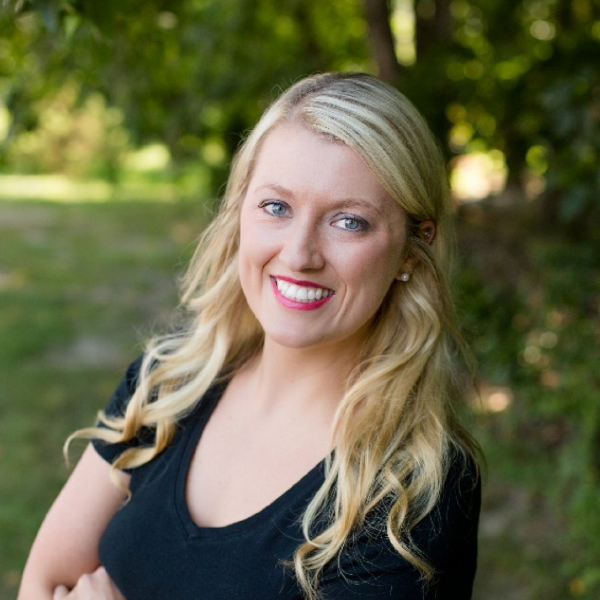 Dr. Courtney is a Southern Indiana native and graduate from Floyd Central High School. She completed her undergraduate degree at Indiana University Southeast where she focused on biology, chemistry, microbiology and was a student athlete (cheerleading). She always knew from a young age that she wanted to help others and be in the medical field. She discovered her love for dentistry when she started working as a dental assistant while completing her undergraduate degree. As an assistant, interacting with patients and helping to give them a healthy, happy smile helped her to realize that dentistry was the exact medical path she was passionate about. She graduated with her doctorate in dental medicine from the University of Louisville.
Making patients, especially those who are most fearful, comfortable and communicating their treatment needs is something that Dr. Courtney takes pride in. She hopes that her careful techniques and discussion about oral health can lead to less anxiety and make her patient's visits as stress-free as possible. Continuing her learning and education to stay current in the field of dentistry to give her patients the best care possible is also a constant goal Dr. Courtney sets for herself.
Dr. Courtney loves to spend time with family, friends and her dogs. She also likes to play and follow sports and is an avid fan of the Indiana Hoosiers, Indianapolis Colts and Louisville Cardinals. Dr. Courtney enjoys traveling as well and has many destinations on her bucket list. One of her favorite and most memorable trips to date was going to Egypt to complete ecology research.