Be Part Of A Great Team. Become A Senior Patient Relations Coordinator.
Join our team and help us deliver fantastic smile care.
Are you seeking a career that matches your true passion and purpose? Join us in helping change our patient's lives by caring for their oral health (which is vitally connected to their overall health) and giving them the smile they've always wanted.
Our state-of-the-art facilities offer an excellent workplace and allow us to focus on providing outstanding dental care to patients of all ages. We have a fast-paced, family-oriented environment that supports career-oriented professionals who share our vision of care.
We are looking for energetic, friendly Senior Patient Relations Coordinators.
Responsibilities 
Senior Patient Relations Coordinators will provide our team with knowledge and leadership skills from 5+ years experience at a dental practice and will be ready to contribute an excellent skillset with our team.
The Senior Patient Relations Coordinator is a key connection between our patients and their dental care. You will set the tone for the patient's first visit and strive to provide attentive and caring support using outstanding people skills. The Senior Patient Relations Coordinator will also provide clear communication of appointment scheduling, insurance coverage and financial obligations leading to an outstanding experience at every patient encounter.
Our patient care team relies on the Senior Patient Relations Coordinator to help them be patient-centered and efficient by implementing our scheduling guidelines and respecting the time of both the patient and the care team. All team members will actively model our company values through respectful, courteous and empathetic treatment of one another.
Here's what we offer…
Training, mentorship and career development to encourage personal and professional growth along with leadership opportunities. Includes annual paid membership in AADOM (American Association of Dental Office Management).
Competitive hourly pay depending on experience.
Four-day work weeks
Comprehensive benefits including medical, vision, life, disability, 401k, profit sharing, paid holidays and paid time off (PTO).
24/7 private company fitness center access
Basic and preventative dental care for you and your immediate family
Requirements
High School Diploma
Computer, scanner, copier, fax, and telephone skills
Dental office experience (at least 5 years)
Desirables
Bachelor's Degree
CPR Certification
Open Dental software experience
Application for Senior Patient Relations Coordinator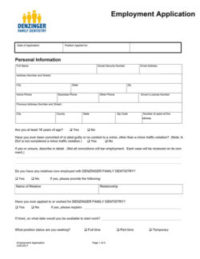 Download and print the employment application at left and send it back with any other documents you want to include for our consideration.