Be Part Of A Great Team.
Join our Essential Coverage Team and provide fantastic smile care for our patients.
Our state-of-the-art facilities offer an excellent workplace and allow us to focus on providing outstanding dental care to patients of all ages. We have a fast-paced, family-oriented environment that supports career-oriented professionals who share our vision of care.
We are looking for energetic, friendly EDDAs to provide essential coverage for open shifts.
Here's what we offer…
$18-$23 per hour depending on experience
$25 gift card premium for late notice shift coverage (defined as anything after 5:00pm the workday prior to open shift)
Monthly stipend based on days worked. This is a monthly payment for being a member of the Essential Coverage Team.
Access to all company events including retreats and meetings
24/7 fitness center access
Access to all company resources (same as any other staff member)
Employee-only dental care
Required shift coverage minimums
Employee Referral Bonus
$250 to current employee plus $250 to new employee for first 5 people hired (paid after 90 days)
Application for Essential Coverage Team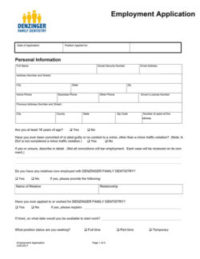 Download and print the employment application at left and send it back with any other documents you want to include for our consideration.